About Us
Ninde Funeral Directors
Founded June 8, 1939 ~ Charles H. Ninde, Sr.
Tulsa, Oklahoma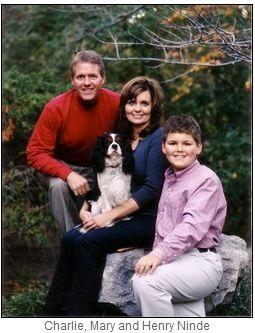 Richmond, Indiana – 1930
Twelve year old Charles Henry Ninde had just lost one of his friends to a contagious disease. Charles and five other young boys were to be pallbearers at the funeral, a big job for young boys. The funeral was under the direction of the Steggal Funeral Home in Richmond. Ora Steggal, the funeral home owner, gathered the boys together before the service, comforted them and gave them their instructions. In Charles' eyes, Mr. Steggal was such a fine man and made a real impression on the young boy. Charles decided then, that when he grew up, he wanted to be like Mr. Steggal… he never changed his mind.

The Great Depression caused the young Charles Ninde, his parents and siblings to move frequently between 1930 and 1934 searching for work opportunities. Eventually they settled in Tulsa where Charles graduated from Central High School in 1937. Remembering the impression Mr. Steggal had made some years back, Charles went to work for the Winterringer Funeral Home on 6th Street in Tulsa. He started as a handyman, worked in the rose garden and washed the company cars. During that time the Whisenhunt family bought the business from the Winterringer's and changed the name to Tulsa Whisenhunt Funeral Home.

Two years later, in 1939, Charles made a deal to purchase the Martin Fleming Undertaking Co. at 9th and south Boulder in downtown Tulsa. The Martin Fleming name, founded in 1917, was changed to Martin Fleming-Ninde Funeral Home and then simply to Ninde Funeral Home. The funeral home building he purchased included an apartment at the back of the building, where Charles, who married Vivian Simpson in 1940, and his young family lived for several years. Like most funeral businesses of the day, Martin Fleming had operated an ambulance service in addition to operating a funeral home. Mr. Ninde continued providing ambulance service to Tulsa families until the city took it over in 1968. This original Ninde Funeral Home building is still in use as offices for a local law firm.

Mary Beatrice (North) Ninde joined her son in the business soon after the purchase. In fact, Charles was too young to borrow the money from the bank to make the purchase and his mother agreed to co-sign the note in exchange for 50% of the stock in his newly formed corporation. His father, Francis Earl Ninde was working as a bookkeeper for the Wilcox Oil Exploration Co. and then Douglas Aircraft. Soon after the purchase, he joined his wife and son in the growing family business. It is interesting to note that Earl Ninde designed and patented a burial vault in 1929, which was manufactured by Edwards Manufacturing Co. in Ohio. The Ninde family served countless Tulsa families from this facility from 1939 to 1957.

The business grew with Tulsa and in 1957 Ninde acquired the Golden Drumstick Restaurant at the corner of 39th Street and South Peoria Avenue in the Brookside area. This growing section of Tulsa quickly became one of the most popular areas in the city, including a shopping district surrounded by schools and neighborhoods. With the success of his business, Mr. Ninde added the Garden Chapel in 1968 adjacent to the main funeral home which was remodeled, adding a full service flower shop. It was at this time that Mr. Ninde acquired property and built a new funeral home and chapel in the Turley area of north Tulsa and purchased the Hendrick's Funeral Home in Jenks, OK south of Tulsa. It was also at this time that Charles' father, "F.E." Ninde passed away in 1970 and his mother, "Mary Bea" Ninde passed away in 1971.

In 1976, Mr. Ninde had the opportunity to purchase the Tulsa Whisenhunt Funeral Home, where he began his career. Ninde and Tulsa Whisenhunt funeral homes operated together for eleven years before Tulsa Whisenhunt was sold.

In 1984, Charles H. Ninde, Jr. completed his studies and was licensed for as a funeral director before coming to work with his father. In 1992, Charles Ninde, Sr. and Charles Ninde, Jr. opened the Ninde Woodland Chapel at 57th and South Memorial Drive, adjacent to Memorial Park Cemetery, providing convenient access to one of Oklahoma's oldest and largest perpetual-care cemeteries.

Over the years, Mr. Ninde, Sr. was involved in many civic and professional organizations, including over 50 years with the Tulsa Downtown Lion's Club, the Tulsa Men's Club and Tulsa Executives' Association. He was also a 50+ year member and past president of Preferred Funeral Directors International, an exclusive group of innovative funeral directors with world wide membership. Likewise, Mr. Ninde and his family have been members of the First United Methodist Church in Tulsa since the 1930's.

Since joining the family business, Charles H. Ninde, Jr. has taken over the administrative duties and day to day operations. Mr. Ninde, Jr. has had a life-long affiliation with the horse world, serving in many state and local organizations. Additionally, he is member of the Rotary Club of Tulsa, Tulsa Executives' Association and Tulsa Men's Club, locally. Nationally, he is involved with International Cemetery and Funeral Association (ICFA), Preferred Funeral Directors International (PFDI) and Deathcare Management Council (DMC) study group. He, his wife, Mary Dee Ninde and their son, C. Henry Ninde, III are active members of Boston Avenue United Methodist Church.

Charles H. Ninde, Sr. passed away March 4, 2001 at the age of 82. Thankfully, he was able to continue to do the work he loved until shortly before he died.

To this day, Ninde Funeral Directors is owned and operated by the Ninde family, making it one of the only remaining original family owned funeral companies in Tulsa. Founded on a commitment to family service, Ninde continues to provide unparalleled funeral excellence... and have for over seventy-five years.